Tiffany Louise Sessions was a college student from Florida who went missing in 1989. In 2014, a suspect was named as a possible killer, Paul Eugene Rowles, although Tiffany's body has not been found or identified. Rowles died in 2013 while incarcerated.
Case
Sessions disappeared around 4-5 pm on February 9, 1989, after informing her college roommate that she planned to go jogging. When she failed to return after several hours, the roommate called Sessions' mother.
There was no evidence to suggest where she may have been abducted; the exact distance she reached remains unknown. Because she did not take her identification, vehicle, or other possessions with her, it was determined she did not disappear voluntarily.
Some witnesses reported seeing a woman resembling enter a vehicle following a conversation with several of its passengers. This sighting remains unconfirmed; as the female in question could not be identified.
Investigation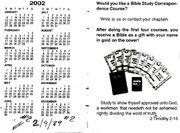 Extensive investigation has taken place in Session's case, as she has been excluded as the possible identity of at least 150 unidentified bodies. It is generally believed she was murdered, as there were no signs of activity following her disappearance, and she appeared to have intended to return to her apartment.
Two known serial killers have been considered potential suspects. While incarcerated, Michael Christopher Knickerbocker,[1] also a serial rapist, bragged that he'd discarded Sessions' body in the Caloosahatchee River, near the city of Fort Meyers. Circumstantial information regarding his residence at the time has conflicted with his statement.
Police believe the theory that Sessions was murdered by Paul Eugene Rowles to be more credible than that implicating Knickerbocker. Rowles, who also had a history of sexual offenses, was employed close to where Sessions lived, and he reportedly failed to appear on February 9, 1989. An address book he used to catalog his victims had an entry for the same date. He died in 2013; his potential link to this case was released in 2014. A victim linked to Rowles through DNA was discovered in close proximity to where Sessions had likely been abducted.
Characteristics
Shoulder-length, wavy blond hair.
Brown eyes.

Her left eye noticeably got smaller when she smiled.

Single piercing in each ear, although it is thought she did not wear earrings when she disappeared.
Suture scar on the knuckle of her left ring finger in the shape of a crescent moon.
Another suture scar at the top of her right ear.

She may have had additional scarring in both ears from previous surgeries.

A lower tooth lacking enamel.
A previous, childhood injury to the jaw:

A bottom, middle tooth was chipped.
Various other teeth were cracked; fillings used were of an inconsistent color.
Clothing and accessories
A long-sleeved white sweatshirt with gray stripes.

The word "Aspen" was embroidered in green on the front side.

Red sweatpants.
Blue or white Reebok tennis shoes with a low-cut.
A blue-faced Rolex watch that was both silver and 18-Karat gold.
A black Walkman radio.
Gallery
Sources
Notes